Head End Systems/Antennas
Head end systems/antennas
Many of us has already seen audio, video, antenna and so on, cables running all over the places in a venue, forming what we call a "Cable Spider Web". No one knows which cable runs where, is it used or not and after a while it seems impossible to see the end of this mess. Also because of these cable hazards can occur at any time. Is this familiar? Yes, it is. Approximately 90% of the venues are confronting this problem nowadays. The question is do you want a nice, arranged and most importantly safe situation in your Audio-Visual control room?
Corvin Trade has extensive experience in developing, designing, setting up, testing and delivering new Audio-Visual solutions for his new and existing customers. Many customers, including Hotels, Motels, Clubs, Pubs and Betting Outlets throughout Sydney and NSW are already using our expertise, our systems. We are listening to our customers needs, we can offer ideas and different solutions to ensure that your venue will offer the best viewing and listening experience to your customers. Our solutions not only include HeadEnd Systems and HD Digital Antenna Systems, but once our system is in place, it means that your cable management is done professionally as well. For our Audio, Multiroom Audio solutions, please check our Commercial Installations -> Multizone section on this site.
What is a Commercial HeadEnd System?
It is a master facility, including satellite receivers, modulators and various other parts for receiving television signals for processing and distribution over a cable television system gateway.
We use these HeadEnd Systems for pubs, hotels, motels and other commercial properties. It is used to receive and rebroadcast Satellite and FTA TV channels throughout a property.
These Head End Systems are the heart of Cable Televisions Systems (whether the signals are analog or digital). It handles many functions including reception and processing of broadcast or "off-air" television signals and reception, decryption and modulation of satellite delivered programming in preparation for distribution to the guests.
How does a HeadEnd work?
Basically the headend has satellite receivers on a headend rack which sends video signal to modulators which modulate the
video into channels. This basically makes the hotel or motel have its own private cable network.
Why do I want a HeadEnd?
You want one because the monthly costs can be significantly lower! You are putting money into equipment which will last you a long time for a service that is much cheaper by the month then your local cable bill! In other words, the equipment pays for itself! You can have different sources, inputs in the HeadEnd, like FOXTEL, SKY, TVN, DVD, Jukebox, KENO and so on. Each of these sources will be modulated into the System, which means that you can have every channel on every TV throughout the property.
How much are HeadEnds?
The price depends on the setup and how many channels you need or you have in the venue and also if you need digital modulators or analog ones. Please contact Corvin Trade and find out.
How does a HeadEnd for your Hotel look like?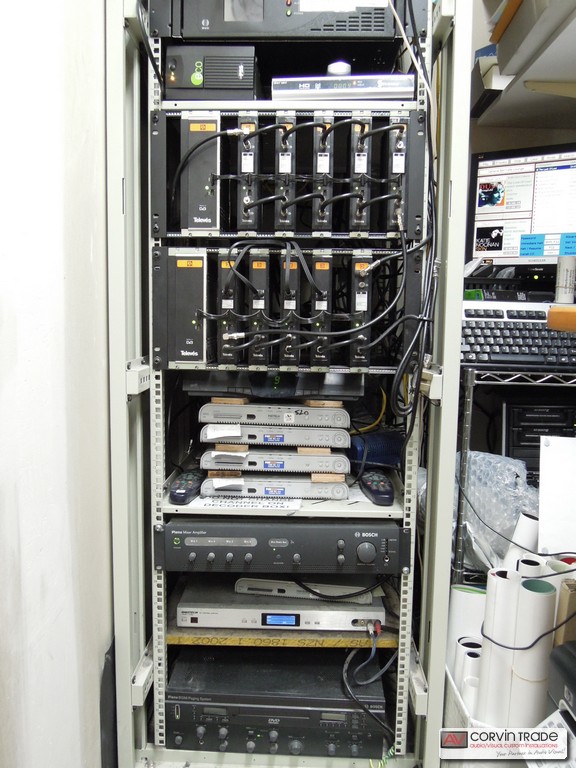 Do you want a HeadEnd system for your hotel or motel?
Of course you do! It provides a much better picture and comes at a significantly lower cost in long run.
To ensure that your venue offers the best picture, including all the available digital Free to Air channels, we recommend an HD
digital antenna as well. We are Australian Government approved Digital Antenna installers, we use quality products and you can be rest assured quality workmanship by our friendly, professional technicians. Customer satisfaction is our priority.
For more details, please check our Digital Antenna Section on this site.
Based on a pre-inspection at your venue, we can offer different solutions for both, HeadEnd and HD Digital Antenna Systems.