Download the iFace specifications sheet here.
INTRODUCTION: iFace Digital MirrorPP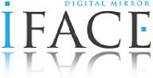 The iFace Digital MirrorPP is a unique, innovative form of digital signage. WOW. Everyone looks into a mirror expecting to see their reflection only. The iFace Digital MirrorPP however displays digital content too, catching the surprised attention of its viewers, making it a virtually unavoidable form of communication. The wow factor that this TV wall mount installation grabs hold of the viewer and the messages are focused on, remembered, and leaves a lasting impression. With the right content and imagery, iFace helps to strengthen brand image as well.
SIMPLE. The iFace TV wall mount installation is an easy to use product. It only requires an internet connection and power. It is managed remotely and the content is updated within minutes. Each iFace has an integrated media player and can be controlled separately. If your place of business has several different iFace Digital Mirrors installed, each one can be playing different content, giving the business owner multiple surfaces to communicate infinite messages with their clients, in a place where important impulse purchases will occur.
RETAIL. Among the many locations such as hotels, spas, beauty salons, bars and restaurants, the iFace can also be found in retail stores. iFace can showcase the seasons collections. It can also alert customers to current sales, special offers, accessories, even stock and size availability subject to the retailer's back office systems in place. A very strong brand enhancement tool, iFace strengthens the brand's image by showcasing pleasant lifestyle images of models in the latest clothing.
INTERACTIVE. Pioneering the trends evolving in shopper marketing, interactivity sits at the heart of the development of iFace. A mirror, by its reflective nature is an interactive surface. This TV wall mount installation handles "touch technology" via infrared frames to override the fingerprints on glass side effect of touchscreens. Gesture based control, age and gender recognition based content playback have also been added to the possibilities.
FUTURE. The most anticipated form of interactivity of the near future is expected to come from our intelligent "wearables", smartphones, smart watches and even smart jewelry. The near future of shopper marketing envisions that our "wearables" will inform the digital screens around us about our personal preferences without a touch or a gesture on the big screen.
READY. Proven as a very powerful and engaging tool, iFace Digital MirrorPP would be honoured to impress you. We are an audio-visual company specializing in the latest, innovative digital signage products like iFace. If you are interested, we are more than happy to offer you an obligation free demonstration of the product and we are sure that this will lead you to decide on having this TV wall mount installation ASAP .
Looking forward to your enquiry email at:
info@corvintrade.com.au
Recent Works